Why Is
18

Shake So Effective?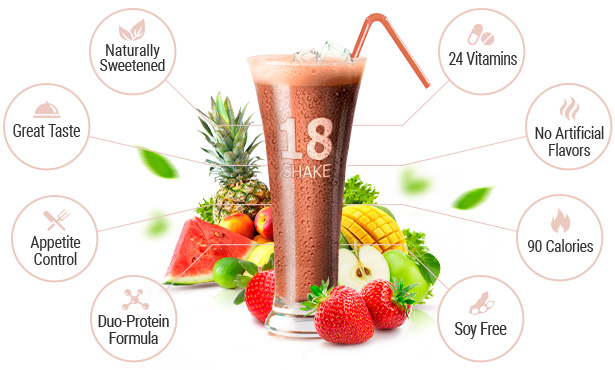 The key ingredients in new 18Shake: Duo-protein formula, whey protein isolate, whey protein concentrate, Fibersol-2, and 24 vitamins and minerals.
Special developed Duo-protein formula.
This non-GMO protein contains both whey isolate and concentrate. Protein promotes healthy metabolism and it requires the body to burn more calories to process it, which will help you burn even more than a traditional meal. Since it can reduce hunger for longer, it can suppress appetite quickly and for a long time.
WARNING: Recent research shows that soy protein often used in other meal replacements can potentially cause heart issues and cancer. Around 90% of all US grown soy is GMO.
Fibersol-2 appetite suppressant.
One important way to lose weight is to control your appetite. This patented form of fiber reduces hunger to keep you full and able to control the amount of food you eat.* Reducing calories then leads to a loss of weight!
Special-balanced blend of vitamins and minerals
The nutrients in new 18Shake are added in a measured special blend that the body needs to say healthy. The nutrients only help you get what your body needs while restricting calories, but it can also boost metabolism and lead to even more weight loss.*
Iodine
This necessary element in necessary for a healthy thyroid and studies show this leads to a healthy increased metabolism. It also increases the rate in which you're able to lose excess pounds.
Chromium
Hormone sensitivity is incredibly important in making sure weight loss occurs, Chromium can be a helpful mineral that promotes this process. It also reduces hunger and properly metabolizes carbohydrates.
B-vitamins
A blend of B-vitamins is effective for promoting weight loss, and it's important to have all of them mixed together. The body uses this to form important metabolic functions including energy output and red blood cell creation.
Vitamins C
Antioxidant that reduces bad LDL cholesterol and triglycerides. It also regenerates and protects healthy tissue, supports heart health, and allows iron to be properly absorbed.
18

MEAL PLAN

The new 18Shake company wrote the 18 Meal Plan book as a free gift to our customers to show what one can do to lose weight naturally and effectively.

In it is an explanation of all you need to know about meal replacements in full detail, as well as a section where we answer all the FAQ'S. There are other brands that fail to provide important information on their products. This can make dieting difficult and it doesn't allow you to reach the results you want. Offered by the 18Meal Plan is a diet plan to help you lose weight easy and fast.