F.A.Q.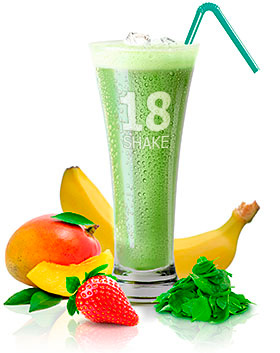 Which ingredients & nutrients are found in 18 Shake?
Please
click here
to find this information.
Do you offer a money back guarantee?
Yes, we offer a 30 day money back guarantee.
Recurring fees or auto-shipments?
No, we do not have auto-shipments, only direct sales, you buy more to save more.
How many servings are in 18Shake?
There are 16 servings per bag.
How many calories are there in a single serving of 18Shake?
There are only 90 calories per serving.
Is 18Shake FDA approved?
18shake is made in FDA approved and GMP certified facility.
Is 18Shake gluten free?
Yes, It is.
Do you have any special recipes to make 18Shake even better?
Yes. Please visit
this page
to find delicious recipes.
What is 18 Meal Plan?
18 Meal Plan is an ebook that provides you with information about dieting in a healthy manner and using meal replacement products correctly. It addresses the following questions:
- How can I achieve a healthy weight with my busy lifestyle?
- How can I stay healthy and effectively manage my personal diet plan?
- What should I look for when purchasing a supplement?
- What are the most common weight-loss myths and misleading commercials?
I lost my measuring scoop; how much shake mix should I use?
The scoop is approximately 3 heaping tablespoons, which is a little less than ¼ cup.
If I'm drinking the shakes, do I need to work out as well to lose weight?
Although it's not necessary to being an exercise program when using 18 Shake, as some of our clients have achieved weight loss without working out, it is certainly an added bonus and will aid you in living a healthy lifestyle.
I need to lose a lot of weight; how long will it take me to get to my ideal weight by starting your program?
Because there are many factors that determine your body type and weight, the answer to this question will vary. Men and women lose weight at a different pace, and your dietary habits and genetics also influence your degree of success in weight loss. Some of our clients have lost 5 to 10 pounds per month, whereas others have lost over 30 pounds in a month simply by replacing two of their meals with a shake.